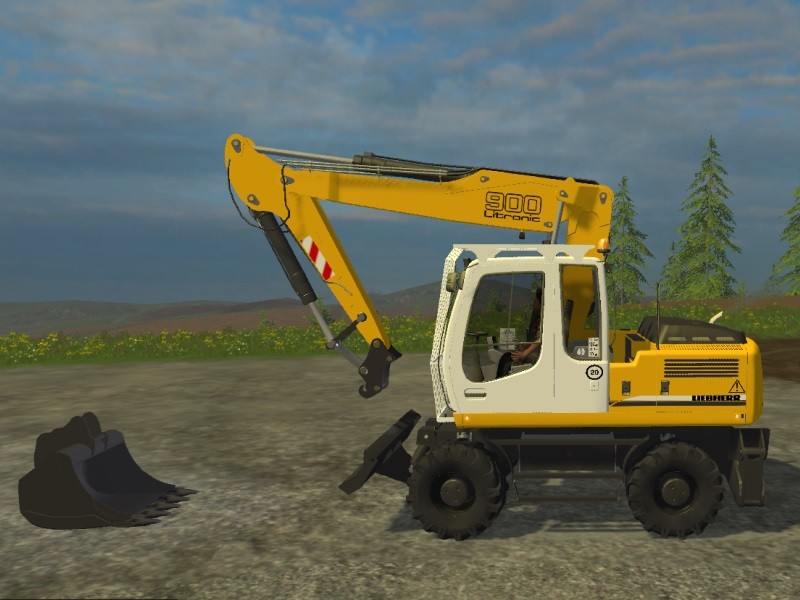 Fully functional (Only wheeled version. I did not yet manage to modify the tracked version.)
* Inlcuding standard bucket (volume 2.500 liters) for all standard fruits
* Rake bucket (volume 2.500 liters) only for potatoes, sugarbeets and manure (model from Giants Demolition Company)
I made some minor modifications to the original model:
* Changed yellow skin colour slightly (is now about the same as the other Liebherr machines in FS2015)
* Changed "reverse" sound (is now a standard "beep" sound)
* Moified shovels to Ls2015
* Modified tyre tracks
There might be some minor mistakes, however I tested it and think it works well enough to use in the game.
Feedback is always welcome (Only when it makes sense). If you like; use it. If you don't like; just don't use it.
If you re-use this; please do not forget to mention other modders who worked on this before you.
Changelog V1.1:
Cleared error log
Added trailer hook
Still on "to do" list:
Change mouse controls
Attached tools don't "stick" to the main boom, attacher is still "wobly". Can't et this fixed till now.