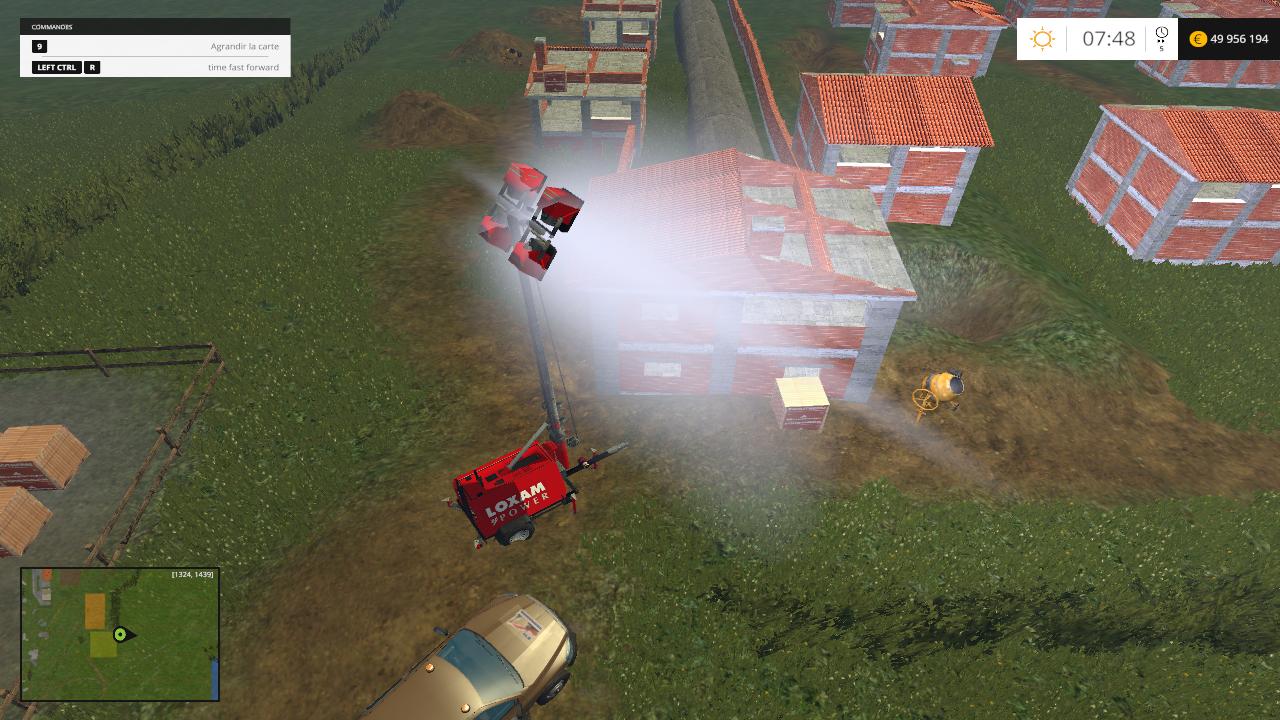 PLACEABLE FLOODLIGHT GENERATO LOXAM MOD
Good Morning
This is a re skin. A mod re skinner or converted is not a creation as such. We use mods already released and re-integrating into the game with an aspect diferent. Our policy is to share before all why we offer them here. Some of our creations rest on our home page, however it is still diponibles to the comunity. They sufit you to connect to obtenirs: http://ls15-tfs13group.forumprod.com/
We are looking for writers to finalized our creations of very beautiful are excluded expectations scripting way to what is functional. thank you to all those who accept to come to our aid !
http://ls15-tfs13group.forumprod.com/
Good Morning
I propose today is reskiner lighting mast in the colors of LOXAM POWER.
This is a palceable object, however it will be available in your game in the OTHER category.
Fully functional!
Respect for re-skiners Ladies and Gents!
Happy New Year 2015 to all good game and all.
"YOU CAN SHARE SE MOD Partous EVEN ON THE MOON YOU IF THIS TENT".
Now here as abitudes désobligents the comments !!!
…………………………………………….
Bonjour
Ceci est un re skin. Un mod re skinner ou converti n'est pas une création en tant que tel. Nous utilisons des mods déja diffusés et les réintégrons dans le jeu avec un aspect diferent. Notre politique est le partage avant tous ces pourquoi nous vous les proposons ici. Certaines de nos créations reste sur notre page perso, toutefois elles reste toujours diponibles à la comunauté. Ils vous sufit de vous connecter pour les obtenirs : http://ls15-tfs13group.forumprod.com/
Nous recherchons des scripteurs afin de finalisé nos créations, de trés belles exclus sont en attentes de scriptage de façon à se quelles soit fonctionnelle. merci à tous ceux qui accépterons de nous venir en aides !
http://ls15-tfs13group.forumprod.com/
Bonjour
je vous propose aujourd'hui se mat d'éclairage reskiner aux couleurs de LOXAM POWER.
ceci est un objet palceable, toutefois il sera disponible dans votre jeu dans la catégorie DIVERS.
Entierement fonctionnel !
Respect des re-skiners Mesdames et Monsieurs !
Bonne année 2015 et bon jeu à toutes et à tous.
" VOUS POUVEZ PARTAGER SE MOD PARTOUS, MEME SUR LA LUNE SI CELA VOUS TENTE ".
Maintenant voici comme d'abitudes les commentaires désobligents !!!
Credits:
Ceci est un re skin. Un mod re skinner ou converti n'est pas une création en tant que tel. Nous utilisons des mods déja diffusés et les réintégrons dans le jeu avec un aspect différent. Notre politique est le partage avant tous ces pourquoi nous vous les proposons ici. Certaines de nos créations reste sur notre page perso, toutefois elles reste toujours disponibles à la communauté. Ils vous suffit de vous connecter pour les obtenir : http://ls15-tfs13group.forumprod.com/
CRÉDIT: ModHeaven
TFSGROUP
CRÉATIONS ÉDITIONS CONVERSIONS RE SKINS
By: zorlac
http://ls15-tfs13group.forumprod.com/